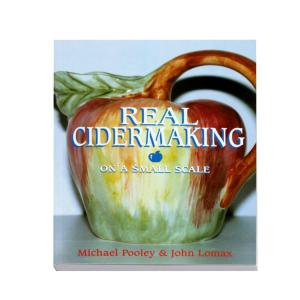 Real Cidermaking on a Small Scale
---
Michael Pooley & John Lomax.
This new practical book on the craft of cidermaking explores both traditional and modern approaches, and has been designed to enable the enthusiast using any type of apples to make real cider with skill and confidence.
There are additional chapters on a range of fascinating topics related to cider. Techniques for preserving apple juice for drinking, cider-based recipes, cider vinegar and the making of perry from pears are just some of the subjects dealt with.

Description
Price (£)
QTY

Real Cidermaking on a Small Scale

Michael Pooley & John Lomax. This new practical book on the craft of cidermaking explores both traditional and modern approaches, and has been designed to enable the enthusiast using any type of apples to make real cider with skill and confidence. There are additional chapters on a range of fascinating topics related to cider. Techniques for preserving apple juice for drinking, cider-based recipes, cider vinegar and the making of perry from pears are just some of the subjects dealt with.

Price (£)
QTY

Real Cidermaking on a Small Scale

Michael Pooley & John Lomax. This new practical book on the craft of cidermaking explores both traditional and modern approaches, and has been designed to enable the enthusiast using any type of apples to make real cider with skill and confidence. There are additional chapters on a range of fascinating topics related to cider. Techniques for preserving apple juice for drinking, cider-based recipes, cider vinegar and the making of perry from pears are just some of the subjects dealt with.

£6.95

Add to Basket
Add to Basket

---