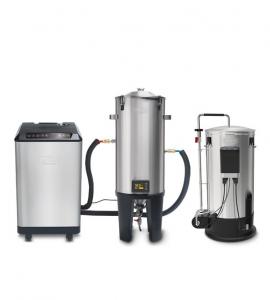 Grainfather Advanced Brewery Set-up
---
This is it, the ultimate system to revolutionise all grain brewing in your own home!

Compact and simple to use, with a small footprint for brewing indoors, the Grainfather Advanced Brewery Set up includes superior design, an impressive list of features and the latest technology. There is no limit to the types and styles of beer that can be made, and you'll be able to brew professional, quality craft beer at home!

This set-up has the Grainfather, Chiller and Conical Fermenter complete with some useful additions.

This kit consists of:
Grainfather G30 Connect
c/w Graincoat, Grainfather Hi-performance Cleaner 500g, Stainless Steel Paddle and Grainfather Wortometer
Grainfather Gycol Chiller
c/w Liquid Glycol
Grainfather Conical Fermenter Pro
c/w Connection Kit and Conical Coat.

There are further options of additional Conical Fermenters (complete with Connection Kit and Conical Coat) up to the maximum of 4 that the Chiller can control. Remember, that any additional Conical Fermenters added can be controled independently giving you maximum flexabilty with your brewing schedules.

These prices include delivery to Mainland England, Wales and Scotland. Delivery will either be by our own van or a pallet courier (our choice) depending on your location. Delivery may be possible elsewhere but please contact us first before purchasing.

If you would like a competitive price on any other combination of Grainfather or Still Spirits products please contact us at cordelia@brewgenie.co.uk with your items and delivery post code and we will get back to you as soon as possible.
Description
Price (£)
QTY

Grainfather Advanced Brewery Set-up with one Conical Fermenter.

Grainfather G30 Connect c/w Graincoat, Grainfather Hi-performance Cleaner 500g, Stainless Steel Paddle and Grainfather Wortometer Grainfather Gycol Chiller c/w Liquid Glycol Grainfather Conical Fermenter Pro c/w Connection Kit and Conical Coat.

Price (£)
QTY

Grainfather Advanced Brewery Set-up with one Conical Fermenter.

Grainfather G30 Connect c/w Graincoat, Grainfather Hi-performance Cleaner 500g, Stainless Steel Paddle and Grainfather Wortometer Grainfather Gycol Chiller c/w Liquid Glycol Grainfather Conical Fermenter Pro c/w Connection Kit and Conical Coat.

£1899.00

Add to Basket
Add to Basket

---

Grainfather Advanced Brewery Set-up with two Conical Fermenters.

As original set-up but with 2 Conical Fermenter Pros, plus an additional Connection Kit and Conical Pro-Coat.

Price (£)
QTY

Grainfather Advanced Brewery Set-up with two Conical Fermenters.

As original set-up but with 2 Conical Fermenter Pros, plus an additional Connection Kit and Conical Pro-Coat.

£2525.00

Add to Basket
Add to Basket

---

Grainfather Advanced Brewery Set-up with three Conical Fermenters.

As original set-up but with 3 Conical Fermenter Pros, plus an additional 2 Connection Kits and 2 additional Conical Pro-Coats.

Price (£)
QTY

Grainfather Advanced Brewery Set-up with three Conical Fermenters.

As original set-up but with 3 Conical Fermenter Pros, plus an additional 2 Connection Kits and 2 additional Conical Pro-Coats.

£2999.99

Add to Basket
Add to Basket

---

Grainfather Advanced Brewery Set-up with four Conical Fermenters.

As original set-up but with 4 Conical Fermenter Pros, plus an additional 3 Connection Kits and 3 Conical Pro-Coats.

Price (£)
QTY

Grainfather Advanced Brewery Set-up with four Conical Fermenters.

As original set-up but with 4 Conical Fermenter Pros, plus an additional 3 Connection Kits and 3 Conical Pro-Coats.

£3499.00

Add to Basket
Add to Basket

---