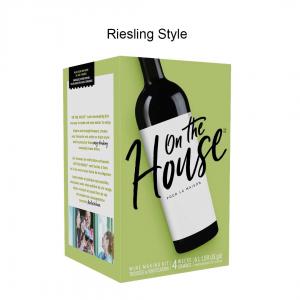 On The House Wine kits
---
ON THE HOUSE craft winemaking kits are easy to make and even easier to enjoy.

Simple and straightforward, choose your favourite red, white or blush style and be proud of these easy-drinking everyday house wines.
They are the direct replacements for the very popular California Connoisseur range of wine kits. They contain a more concentrated juice (6 litres instead of the previous 7.5 litres) but will produce wines of exactly the same quality.
There are 11 popular styles of wine in this range. If the California Connoisseur wine you are looking for is not here then check out the House of Beaverdale range as these use the same juices as the Connoisseurs and On The House wines.
Description
Price (£)
QTY

California White

Apple and stone fruit. 11.5%, Body - Light-Medium, Oak - None, Sweetness - Dry

Price (£)
QTY

California White

Apple and stone fruit. 11.5%, Body - Light-Medium, Oak - None, Sweetness - Dry

£43.95

Add to Basket
Add to Basket

---

Chardonnay

Tropical fruit and vanilla. 11.5%, Body - Medium, Oak - Medium, Sweetness - Dry

Price (£)
QTY

Chardonnay

Tropical fruit and vanilla. 11.5%, Body - Medium, Oak - Medium, Sweetness - Dry

£43.95

Add to Basket
Add to Basket

---

Pinot Grigio

Green apple and citrus. 11.5%, Body - Light, Oak - None, Sweetness - Dry

Price (£)
QTY

Pinot Grigio

Green apple and citrus. 11.5%, Body - Light, Oak - None, Sweetness - Dry

£43.95

Add to Basket
Add to Basket

---

Riesling

Citrus and grape notes. 11.5%, Body - Light, Oak - None, Sweetness - Off-Dry

Price (£)
QTY

Riesling

Citrus and grape notes. 11.5%, Body - Light, Oak - None, Sweetness - Off-Dry

£43.95

Add to Basket
Add to Basket

---

Sauvignon Blanc

Herbaceous with green fruit. 11.5%, Body - Light, Oak - Medium, Sweetness - Dry

Price (£)
QTY

Sauvignon Blanc

Herbaceous with green fruit. 11.5%, Body - Light, Oak - Medium, Sweetness - Dry

£43.95

Add to Basket
Add to Basket

---

Blush Rosé

Red fruit. 11.5%, Body - Light-Medium, Oak - None, Sweetness - Dry

Price (£)
QTY

Blush Rosé

Red fruit. 11.5%, Body - Light-Medium, Oak - None, Sweetness - Dry

£43.95

Add to Basket
Add to Basket

---

Cabernet Sauvignon

Black fruit and oak. 11.5%, Body - Medium, Oak - Medium, Sweetness - Dry

Price (£)
QTY

Cabernet Sauvignon

Black fruit and oak. 11.5%, Body - Medium, Oak - Medium, Sweetness - Dry

£43.95

Add to Basket
Add to Basket

---

California Red

Red fruit. 11.5%, Body - Light-Medium, Oak - None, Sweetness - Dry

Price (£)
QTY

California Red

Red fruit. 11.5%, Body - Light-Medium, Oak - None, Sweetness - Dry

£43.95

Add to Basket
Add to Basket

---

Merlot

Red fruit and oak. 11.5%, Body - Medium, Oak - Medium, Sweetness - Dry

Price (£)
QTY

Merlot

Red fruit and oak. 11.5%, Body - Medium, Oak - Medium, Sweetness - Dry

£43.95

Add to Basket
Add to Basket

---

Pinot Noir

Red fruit and earthy tones. 11.5%, Body - Light-Medium, Oak - Light, Sweetness - Dry

Price (£)
QTY

Pinot Noir

Red fruit and earthy tones. 11.5%, Body - Light-Medium, Oak - Light, Sweetness - Dry

£43.95

Add to Basket
Add to Basket

---

Shiraz

Black fruit and spice. 11.5%, Body - Medium, Oak - Heavy, Sweetness - Dry

Price (£)
QTY

Shiraz

Black fruit and spice. 11.5%, Body - Medium, Oak - Heavy, Sweetness - Dry

£43.95

Add to Basket
Add to Basket

---