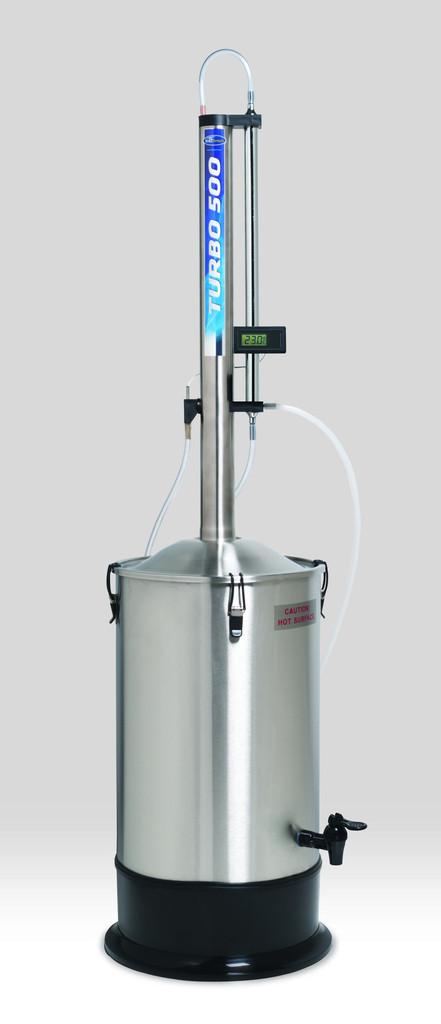 Still Spirits T500 Reflux Still
---
It is illegal to manufacture spirits in the UK without a distiller's licence which is required under the provisions of section 12 of the Alcoholic Liquor Duties Act 1979 and this includes manufacture for "own/domestic use".
Public Notice 39 - "Spirits production in the UK" dated July 2006 provides further information about HM Revenue and Custom's requirements.

The ultimate still in home distilling, the T500 is a must for anyone who wants to produce large quantities of extremely clean, pure alcohol. The T500 allows you to collect an astonishing 95% of the possible alcohol from the wash. This comes out at an amazing 93% alcohol purity which beats every other still on the market.

High quality alcohol made with the T500 can be used to make high quality, commercial grade, clear spirits such as Gin, White Rum and Vodka as well as any of the other spirits and liqueurs in the Still Spirits Essences range.

Designed and assembled in New Zealand, the world's most advanced fractionating column for home use. It includes stainless Steel Construction, faucet adaptor for ease of water flow adjustment, 25 L boiler with 1800w integrated element, boil dry reset, thermal cut out fuse and waste discharge tap.

The condensor column is available in Stainless Steel or Copper. The standard set up is stainless steel. The Copper column is available either with the T500 boiler or seperatly. With either model it is advised that the finished spirit is filtered through activated carbon to remove unwanted flavours from distilled alcohol. We recommend the Still Spirits EZ Filter for this purpose.


Description
Price (£)
QTY

T500 Reflux Still Complete

The T500 package consists of the T500 25 litre boiler plus the T500 Stainless Steel Fractioning Column Condensor and includes Prepacked column, PVC and PE tubes, Digital thermometer, Distilling Conditioner and ceramic boil enhancers, water flow controller with kitchen, garden and laundry tap connectors, instruction booklet.

Price (£)
QTY

T500 Reflux Still Complete

The T500 package consists of the T500 25 litre boiler plus the T500 Stainless Steel Fractioning Column Condensor and includes Prepacked column, PVC and PE tubes, Digital thermometer, Distilling Conditioner and ceramic boil enhancers, water flow controller with kitchen, garden and laundry tap connectors, instruction booklet.

£394.95

Add to Basket
Add to Basket

---

T500 25 litre boiler

The T500 Boiler has a 2kw element and faucet adaptor for ease of water control. It can be used with the Stainless Steel or copper reflux fractioning columns, or the Alembic pot still head. It can be used as a mash boiler for beer makers or as a crab boiler (so it says on the box -well it does come from New Zealand)!

Price (£)
QTY

T500 25 litre boiler

The T500 Boiler has a 2kw element and faucet adaptor for ease of water control. It can be used with the Stainless Steel or copper reflux fractioning columns, or the Alembic pot still head. It can be used as a mash boiler for beer makers or as a crab boiler (so it says on the box -well it does come from New Zealand)!

£194.95

Add to Basket
Add to Basket

---

T500 Stainless Steel Condensor Column

The stainless steel fractioning column comes pre-packed with copper saddles and stainless steel saddles. It is designed to fit onto the top of the domed lid of the T500 boiler.

Price (£)
QTY

T500 Stainless Steel Condensor Column

The stainless steel fractioning column comes pre-packed with copper saddles and stainless steel saddles. It is designed to fit onto the top of the domed lid of the T500 boiler.

£235.00

Add to Basket
Add to Basket

---

T500 Copper Condensor Column

The copper column of this model gives slightly enhanced flavours of spirit. It is pre-packed with copper saddles and stainless steel saddles.

Price (£)
QTY

T500 Copper Condensor Column

The copper column of this model gives slightly enhanced flavours of spirit. It is pre-packed with copper saddles and stainless steel saddles.

£246.00

Add to Basket
Add to Basket

---

T500 Reflux Still complete (with copper column)

The T500 package consists of the T500 25 litre boiler plus the T500 Copper Fractioning Column Condensor and includes Prepacked column, PVC and PE tubes, Digital thermometer, Distilling Conditioner and ceramic boil enhancers, water flow controller with kitchen, garden and laundry tap connectors, instruction booklet.

Price (£)
QTY

T500 Reflux Still complete (with copper column)

The T500 package consists of the T500 25 litre boiler plus the T500 Copper Fractioning Column Condensor and includes Prepacked column, PVC and PE tubes, Digital thermometer, Distilling Conditioner and ceramic boil enhancers, water flow controller with kitchen, garden and laundry tap connectors, instruction booklet.

£424.95

Add to Basket
Add to Basket

---

EZ Filter

The EZ Filter comes complete with two 10 litre purpose made filtration containers, to provide a complete filtration system. The two buckets come pre-drilled and with all necessary connectors so that one bucket acts as a feed for the filter, and the second acts as a collector. The collecting bucket is fitted with a tap, to make bottling so easy. Will also filter water.

Price (£)
QTY

EZ Filter

The EZ Filter comes complete with two 10 litre purpose made filtration containers, to provide a complete filtration system. The two buckets come pre-drilled and with all necessary connectors so that one bucket acts as a feed for the filter, and the second acts as a collector. The collecting bucket is fitted with a tap, to make bottling so easy. Will also filter water.

£52.50

Add to Basket
Add to Basket

---

Replacement carbon cartridge for EZ Filter.

Use a new cartridge for every batch of spirit for best results.

Price (£)
QTY

Replacement carbon cartridge for EZ Filter.

Use a new cartridge for every batch of spirit for best results.

£4.25

Add to Basket
Add to Basket

---

Alembic Pot Still adapter kit

Traditional copper dome acts as a catalist with the vapour in the still and helps enhance and concentrate flavours. This package consists of the Alembic Condensor AND the Copper Dome Top. These fit on top of a T500 boiler. (boiler not included)

Price (£)
QTY

Alembic Pot Still adapter kit

Traditional copper dome acts as a catalist with the vapour in the still and helps enhance and concentrate flavours. This package consists of the Alembic Condensor AND the Copper Dome Top. These fit on top of a T500 boiler. (boiler not included)

£284.00

Add to Basket
Add to Basket

---

Lid for T500 Boiler

This is a replacement lid for the T500 Boler. lt is the part needed to convert the Grainfather to take a reflux column. Comes complete with silicone seal.

Price (£)
QTY

Lid for T500 Boiler

This is a replacement lid for the T500 Boler. lt is the part needed to convert the Grainfather to take a reflux column. Comes complete with silicone seal.

£29.00

Add to Basket
Add to Basket

---

Replacement seal for T500 Boiler lid.

A replacement Silicon Seal for the T500 Boiler Lid

Price (£)
QTY

Replacement seal for T500 Boiler lid.

A replacement Silicon Seal for the T500 Boiler Lid

£8.99

Add to Basket
Add to Basket

---