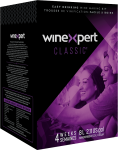 Winexpert Classic
---
Due to a more efficient grape juice concentrating process wine kits now contain less volume of juice but will give exactly the same quality and flavour as their predecessors.
The Winexpert range is replacing the World Vineyard and Vintners Reserve ranges and offer extremely good value wines.

EASY DRINKING WINE MAKING KIT
4 WEEKS
8 L of juice makes 23 litres or 30 bottles (quality equivalent to the previous 10 litre juice kits)

APPROACHABLE & EASY DRINKING

Looking for a delicious and versatile wine for any occasion? Winexpert Classic is the perfect wine to have on hand for life's big events and everyday moments.

Experience the satisfaction of crafting high quality and versatile wines from the world's best known countries – from the ripe fullness of a lively Shiraz to a crisp Italian Pinot Grigio, delicious wine is yours for the making.

From this box to your bottle in just 4 weeks.
Description
Price (£)
QTY

Chilean Cabernet Sauvignon

Blackcurrant, black cherry and toasty notes Alcohol: 12.5%

Price (£)
QTY

Chilean Cabernet Sauvignon

Blackcurrant, black cherry and toasty notes Alcohol: 12.5%

£49.95

Add to Basket
Add to Basket

---

California Chardonnay

Pineapple, mango, and vanilla Alcohol: 12.5%

Price (£)
QTY

California Chardonnay

Pineapple, mango, and vanilla Alcohol: 12.5%

£49.95

Add to Basket
Add to Basket

---

Chilean Diablo Red

Black cherry, blueberry and smokey notes Alcohol: 13%

Price (£)
QTY

Chilean Diablo Red

Black cherry, blueberry and smokey notes Alcohol: 13%

£49.95

Add to Basket
Add to Basket

---

Australian Grenache Shiraz Mourvedre

Blackberry, dark chocolate and spice Alcohol: 13%

Price (£)
QTY

Australian Grenache Shiraz Mourvedre

Blackberry, dark chocolate and spice Alcohol: 13%

£49.95

Add to Basket
Add to Basket

---

Chilean Malbec

Blackberry, black plum and spice Alcohol: 13%

Price (£)
QTY

Chilean Malbec

Blackberry, black plum and spice Alcohol: 13%

£49.95

Add to Basket
Add to Basket

---

Chilean Merlot

Black cherry, fruitcake and smoke Alcohol: 13%

Price (£)
QTY

Chilean Merlot

Black cherry, fruitcake and smoke Alcohol: 13%

£49.95

Add to Basket
Add to Basket

---

Italian Pinot Grigio

Green apple, lemon and lime Alcohol: 12.5%

Price (£)
QTY

Italian Pinot Grigio

Green apple, lemon and lime Alcohol: 12.5%

£49.95

Add to Basket
Add to Basket

---

California Pinot Noir

Strawberry, cherry and earthy notes Alcohol: 12.5%

Price (£)
QTY

California Pinot Noir

Strawberry, cherry and earthy notes Alcohol: 12.5%

£49.95

Add to Basket
Add to Basket

---

Chilean Sauvignon Blanc

Herbaceous, peach and pineapple. Alcohol: 12.5%

Price (£)
QTY

Chilean Sauvignon Blanc

Herbaceous, peach and pineapple. Alcohol: 12.5%

£49.95

Add to Basket
Add to Basket

---

California Shiraz

Blackberry, spice and black cherry Alcohol: 13%

Price (£)
QTY

California Shiraz

Blackberry, spice and black cherry Alcohol: 13%

£49.95

Add to Basket
Add to Basket

---

Spanish Tempranilo

Strawberry, plum and vanilla Alcohol: 13%

Price (£)
QTY

Spanish Tempranilo

Strawberry, plum and vanilla Alcohol: 13%

£49.95

Add to Basket
Add to Basket

---

California Trinity Red

Black fruit, spice and oak Alcohol: 13%

Price (£)
QTY

California Trinity Red

Black fruit, spice and oak Alcohol: 13%

£49.95

Add to Basket
Add to Basket

---

California Voignier

Peach, apricot and honeysuckle Alcohol: 12%

Price (£)
QTY

California Voignier

Peach, apricot and honeysuckle Alcohol: 12%

£49.95

Add to Basket
Add to Basket

---

California White Zinfandel (Rosé)

Cherry and strawberry Alcohol: 11.5%

Price (£)
QTY

California White Zinfandel (Rosé)

Cherry and strawberry Alcohol: 11.5%

£49.95

Add to Basket
Add to Basket

---